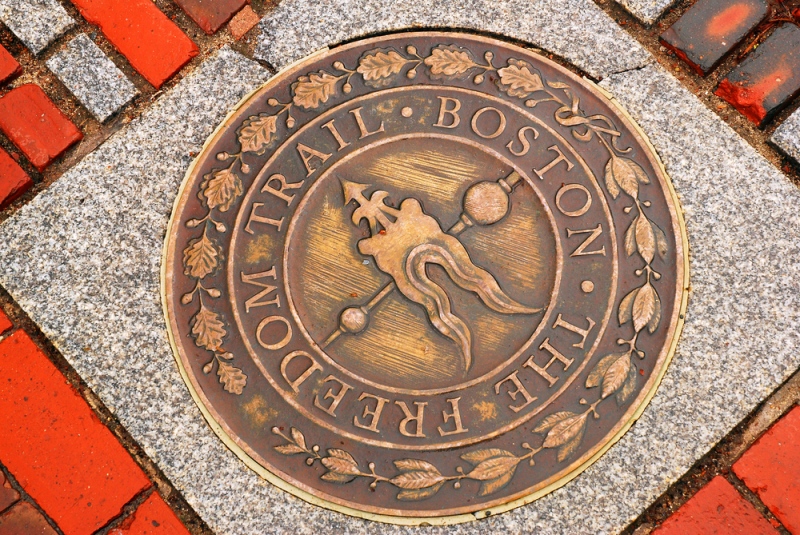 No trip to Boston is complete without a trip to the iconic Freedom Trail. This historic 2.5-mile trail winds through the city of Boston. On the route, you will have the opportunity to see many landmarks including museums, churches, cemeteries, parks, and much more. Each of these sites played an important role in our nation's history. If you only have a short time in Boston, walking the Freedom Trail is a must, and fortunately, it is easy to plan.
Explore the Trail However You Like
One of the wonderful things about the Freedom Trail is that you can explore it in many different ways. There are 16 official sites along the trail, you can start and end at any of them. Furthermore, you can choose to take a guided tour or walk the trail on your own.
The Freedom Trail Foundation offers 90-minute long walking tours to the public. These tours are wonderful for groups and families traveling together, and are a great way to get an overview of some of the most iconic sites on the trail. You can always go back to a specific site later if it peaked your interest and you wish to learn more about it.
Exploring the Freedom Trail on your own is actually quite easy to do, especially with modern technology such as your phone. You can easily download a map of the Freedom Trail in pdf form onto your phone as well as an MP3 guide. This audio guide will offer you historical information as you walk. Walking the trail on your own with an audio guide is a great choice for those who wish to take their time or those who wish to skip certain sites. There are many AT&T stores in Massachusetts where you can grab headphones, earbuds or any other accessory you may need to help guide you around the trail.
Churches and Burial Grounds
Along the trail are three historically significant churches, each with their own unique and rich histories. Old North Church opened in 1723, making it the oldest Church still around in Boston. Its 191-foot tall steeple was used by the Sons of Liberty to watch for British troops. Park Street Church, founded in 1809, has been a landmark for hundreds of years due to its 217-foot tall steeple. The church is still active and holds services every week. Kings Chapel was designed by Peter Harrison, America's first architect. Inside the church, you can experience some of the finest Georgian architecture in North America.
If you have an affinity for cemeteries, then these burial grounds will surely be of interest to you. Granary Burying Ground is the resting place of Benjamin Franklin's parents, John Hancock, Paul Revere, James Otis, Samuel Adams, Robert Paine, and victims of the Boston Massacre. King's Chapel Burying Ground was the first burying ground of Boston proper. It is home to some of the oldest graves in the U.S., including that of Massachusetts' first Governor, and the first woman to step off of the Mayflower. If you like particularly old graveyards, you will also enjoy Copp's Hill Burying Ground which dates back to 1659.
Other Sites to See
There are many historical buildings throughout the Freedom Trail. The Old State House was built in 1713. This is where the Declaration of Independence was first read to the public in 1776. While the Old South Meeting House was built in 1729 as a place of worship for Puritans, it was used as a place to meet and plan throughout the American Revolution. Faneuil Hall was built in 1741 and was used as an open forum and meeting hall for over 270 years. Today, people come here to take the oath for American citizenship. Lovers of literature must stop by the Old Corner Bookstore, the oldest commercial building in the city. Boston Latin School was the first public school in America. Founded in 1635, it provided free education to boys, one of whom was Benjamin Franklin. The Paul Revere house was built around 1680 and is the oldest building in downtown Boston. The house is now a museum and historic site. Also, visit the iconic Massachusetts State House which was completed in 1798.
There are also non-building sites to see on the trail. Boston Common, established in 1634 by Puritan colonist, is the oldest public park in the United States. The trail will lead you through the site of the Boston Massacre of 1768, past Bunker Hill. Finally, you can stop at the USS Constitution, also known as "Old Ironsides". This ship was built in 1797 and fought in the War of 1812. You can take a tour of the ship and visit the nearby USS Constitution Museum.
Next time you visit Boston, you should definitely explore the Freedom Trail, as it is sure to be a rewarding experience.