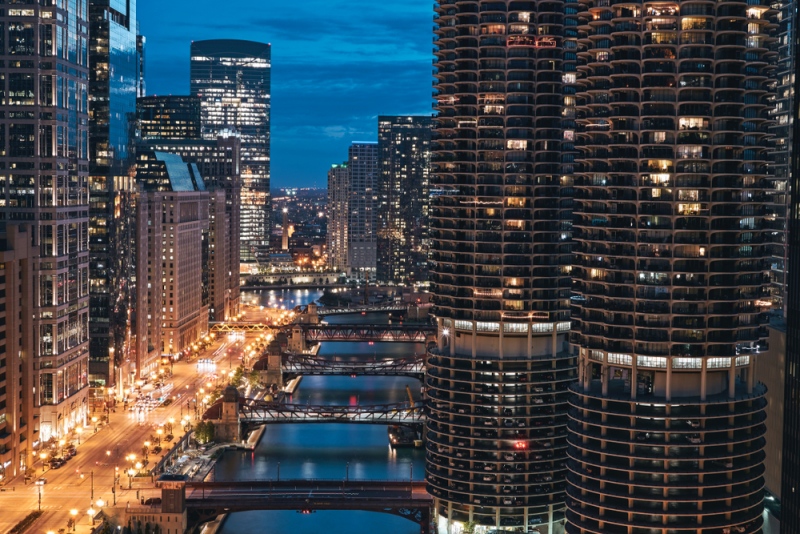 It's easy to associate certain cities with certain job sectors, even if we don't always realize we're doing it. For instance, if someone mentions New York City, it's common to think of Wall Street and the banking industry. If we hear something about the Los Angeles economy, many of us will associate that topic with Hollywood and the entertainment industry. But what about Chicago, the third-biggest city in the country? The economic associations aren't as automatic when it comes to The Windy City. That's partly because Chicago has a diverse, growing economy. There's a reason why people from all over the Midwest (and beyond) come to the city looking to find a job and make a life there.
Moving Beyond Manufacturing
Chicago and the rest of Illinois have a strong, proud history of manufacturing. The Windy City has since diversified in a big way, though. While other parts of the Midwest have struggled to find new sources of jobs once the factories shut down, Chicago's economic output expanded by 3.1 percent in 2015, faster than the 2.5 percent U.S. average. No industry in the city accounts for more than about 15 percent of the local economy. The gap between the haves and the have-nots remains a problem in Chicago, but that's an issue in major cities all over the country right now. It's not a unique Chicago issue. It's still easier to get by in a city like Chicago than it is in New York City or San Francisco. The interior of the country tends to be less costly than cities on the East or West Coast.
Speaking of San Francisco, people think of the Silicon Valley area as the place to be if you want to work for a tech company. It's definitely a hotbed of tech, but it's not the only hotbed. Experts say that Chicago is in a great position to experience tech growth in the coming years. That's true even if Chicago doesn't become the site of the second Amazon headquarters. It may not even need Amazon. For one thing, the city has plenty of access to venture capital, and that access is only expected to increase with time. When a professional services company asked hundreds of "global technology leaders" to pick cities that are poised to be recognized as leading tech innovation hubs, Chicago was one of four U.S. cities that made the top ten (the others were Boston, New York, and Washington, D.C.).
Moving to Chicago
If all of this sounds enticing, then it's time to start applying for jobs in Chicago. There are plenty of big-name employers to choose from, as the Second City boasts 11 Fortune 500 companies within its city limits, and another 23 Fortune 500 companies make their home somewhere else in the metro area. Like other cities, the downtown area is seeing an economic resurgence after years of bad news. The Great Recession that began over a decade ago definitely took its toll, but in 2017, a majority of Chicago jobs were located in the central part of the city. That's the first time that's ever happened.
Since more and more people are working in and around downtown, it also makes sense that more and more people want to live near the Loop. When you're looking for condos and apartments in Chicago, it also makes sense to keep an eye out for promotions for discounted storage units in Chicago. That's especially important if you're moving to a slightly smaller space. Sometimes it's worth living in a more compact space that gives you immediate access to the best restaurants and culture the minute you step outside your door. The suburbs aren't bad, but there's also something to be said for residing in the middle of all the action. A self-storage unit is the perfect place to stash extra furniture or clothing that you aren't sure you need right now,but also aren't quite ready to donate or give to a friend.