Starting A Flea Market Business In Utah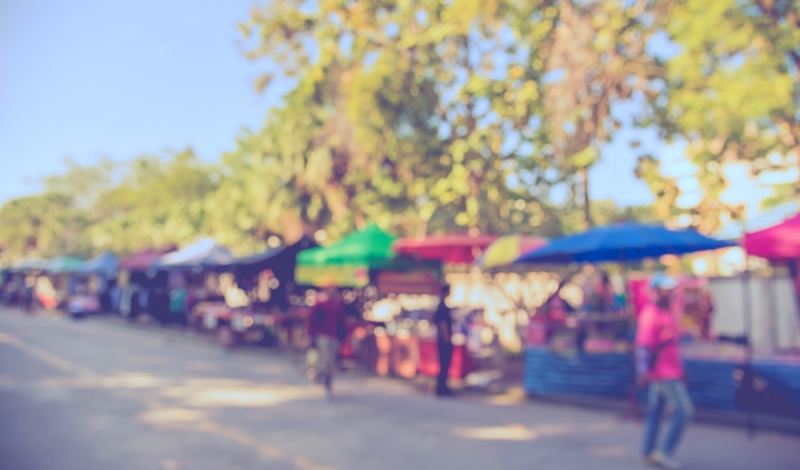 Flea markets are a popular destination for every single demographic in the United States; therefore, all types of products are available. Some people will sell antiques or vintage video games while other sell used items that can be seen at a garage sale. However, not all items at a flea market are necessarily old or used. Some vendors use the popularity of the style of business to promote new products or establish permanent retail locations. Starting a flea market business is relatively simple, if it's something that intrigues you. All that you need is a product to sell and dedication to making the time to sell it. In Utah, several flea markets provide a great opportunity, including the Urban Flea Market in Salt Lake City and the Cedar Faire Flea Market in Cedar City.
Flea markets are businesses that generate billions of dollars in the United States. Most locations offer vendors small areas, typically 10 feet by 10 feet or slightly bigger, and vendors use these spots to showcase merchandise. Scope out the flea markets near you: the rates for the spots vary by location and depend greatly on traffic and popularity. Some spots are as low as three dollars a day, while others can jump to 30 dollars a day. Generally, the bigger the city and the more popular the venue, the higher the rental cost. Many of the locations for flea markets are open spaces; therefore, the vendors are exposed to the elements such as rain and sunlight. Many places provide table and tent rentals to vendors, or vendors can opt to bring their own.
You, like many other vendors, may be drawn to the flea market business because of its low startup cost. Furthermore, you may hold a full-time job, which is also common amongst vendors; the fact that the business operates on weekends provides the flexibility to hold a steady position while earning extra income derived from selling during non-work hours. Flexible schedules and low operating expenses are other reasons that individuals find flea market businesses ideal. Many business owners start out as informal vendors who make some extra dollars during the weekend; however, as the business grows, they become more organized and formalize their enterprise by incorporating and obtaining all necessary licenses from local and state governments. Who knows; this could be you! Make sure to review Utah state requirements for tax and permit information that you may need to operate in the state.
Another great advantage of this type of business is the organic growth that the activity provides. You, as a new entrepreneur, should allow for a gradual growth process that accompanies the results you see. Begin with items that you would sell in a garage sale. This method allows you to clear some space at home and generate some funds to invest in the business. You can also add to the selection by visiting thrift stores in the area and looking for discounted items. Many of these stores have special color-coded promotions where on a specific day, a color is discounted by a large amount.
Start building inventory gradually. Initially, the quantities may be low enough to operate comfortably from home. However, as the business develops, the growth may be such that it will require additional space to accommodate your growing venture. Keep in mind that the success of all businesses is to keep overhead low and profit margins as high as the market allows. Therefore, grow as the business allows. Initially, it is not necessary to look for a warehouse or rent space. Instead, look for Cedar City storage units as a temporary solution while the business grows sufficiently to warrant a dedicated space. As the needs of the company expand, look to add employees and expand locations. The beauty of this type of business is that vendors can start with very little on their own and grow the business to multiple locations with many employees. It all starts with a desire and the will to make it happen.