Business mobility is a gateway to rev up your online presence among the global mobile phone users. The rate of internet usage on the desktops has been declining for many years whereas the overall percentile of mobile usage is increasing respectively. Mobile phones completely dominate over several online modes of entertainment, communication, gaming, shopping, and other benefits. So, it is obvious that turning towards mobile app development is a favorable option to establish your startup business in the marketplace and reach out your prominent customers in order to facilitate & retain their interests.
Several entrepreneurs wish to make profits & generate leads in the competitive corporate atmosphere and that's why, they opt for mobile app development services. However, it is necessary to understand that how a customized mobile app is beneficial in the growth of small scale startups & their businesses. So, you may ask the below-given questions to yourself & answer them to know more about the related advantages:
Is The Increased Mobile Presence Favors To Widen Your Customer Reach?
You need to reach out more & more consumers in order to create your foothold among leading organizations which are already existing in the industry. Considering this fact that around 87% of smartphone users access innovative apps on daily basis, it is clear to say mobile apps generate profits for all small & medium scale startups.
Is it possible to deliver exclusive services along with a great user experience?
Customer retention is a prime factor for business growth. Every mobile app user frequently accesses a feature-rich & customized application and enjoys its engaging functionality via mobile phones. You must know that the majority of popular apps offer rewards, offers, & discounts to woo their customers or mobile app users. In other words, mobile app development will turn out to be a feasible idea to shine in the market sphere of numerous startups emerging worldwide.
How Will A Mobile App Generates Profits For Your Startup Business?
The recent surveys revealed that many mobile app users prefer to install around 26 apps on their devices and usually access them as per their needs. The competition is tough among the most popular apps having a higher number of downloads. Your mobile app will contribute to your business growth & help you make money in many ways including:
Increased sales rate due to exciting discounts & rewards
Accelerated Return over Investment rate
More leads, more profits
User retention to improve repeated shopping
You can further move on for mobile app development with all above answers of the most probable questions that strike in every entrepreneur's mind.
Reasons To Choose Mobile Platform To Set Your Startup Business
Business Promotion Via a Direct Marketing Channel
A mobile app will work favorably to popularize your brand & disseminate your services among consumers just like a cherry on a cake.
You will find various mobile app features which are important for user engagement, just check them out:
Customized product search features & filter option
User account & info, updated & informational news feeds, messengers, price lists along with product descriptions, and so on.
Instant push notification to remind customers about the latest offers, seasonal sales, discounts, rewards, and more.
An additional option for customer feedback in the form of review & ratings on every purchase.
Strengthened brand visibility & awareness
Your brand primarily defines your startup business and people relate it with company's reputation in the marketplace. Mobile apps enable users to check out millions of products from different brands making your specific brand to stand out whenever customers browse to make purchases.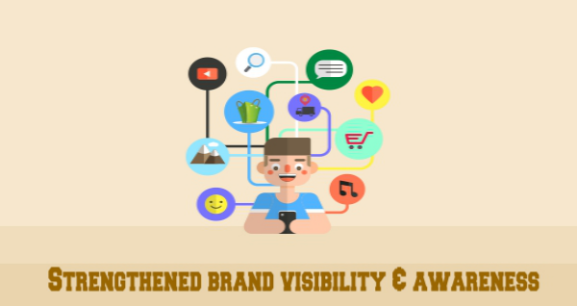 A mobile app can build robust brand image as it:
Influences users to make purchases
Multiplies chances of retaining customers' attention
Favors effective frequency to build brand image
Connects with customers & facilitate them with exclusive services
Stay Visible To Customers 24*7
You need to opt for mobile app development in order to flourish your small scale business on the wider platforms. According to Gallup survey, it was found that almost 90% time of overall mobile phone usage is dedicated to apps.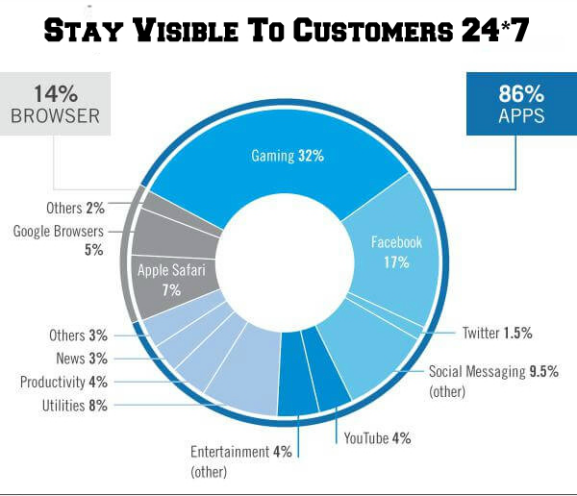 You must know the following facts circumscribing the average usage of mobile apps on different platforms:
Mobile apps vs web browsers
Mobile apps: Overall 86% time is spent on mobile apps as categorized for 32% gaming apps, 17% on Facebook, 1.5% Twitter, 9.5% social messaging, 4% YouTube, 4% Entertainment, 8% Utilities, 4% Productivity, 3% News, 3% others.
Web browsers: Overall 14% time is spent while making searches including 7% for Apple Safari, 5% Google Browsers, & 2% for others.
Gain Customer Loyalty
You can facilitate your customers with unbelievable & exciting offers via an innovative mobile app. While product marketing strategy based on promotion through banners, pamphlets, business cards, TV advertisements benefit to create buzz in the market, the user-friendly mobile apps generate huge revenues for many small-scale businesses. In other words, mobile app development is the best alternative to entertain, facilitate, educate, excite customers.

More Downloads Means More Customers
Customer engagement & your business profits go hand in hand. A mobile app undoubtedly dominates over various ways to offer value to the customer. Many startups offer value points, rewards, and vouchers to steer more visitors on their mobile app and let them make repeated purchases.
Summing it Up!
Being a new player in the industry, your startup business is set to compete with various enterprises that are already existing there. That's why, you need a fully-functional business mobile app fledged with cutting-edge features to grow your small-scale business & boost your profit along with all above benefits.
Tags :
Businesses Mobile Apps
mobile app development