In Defense of Subscription Boxes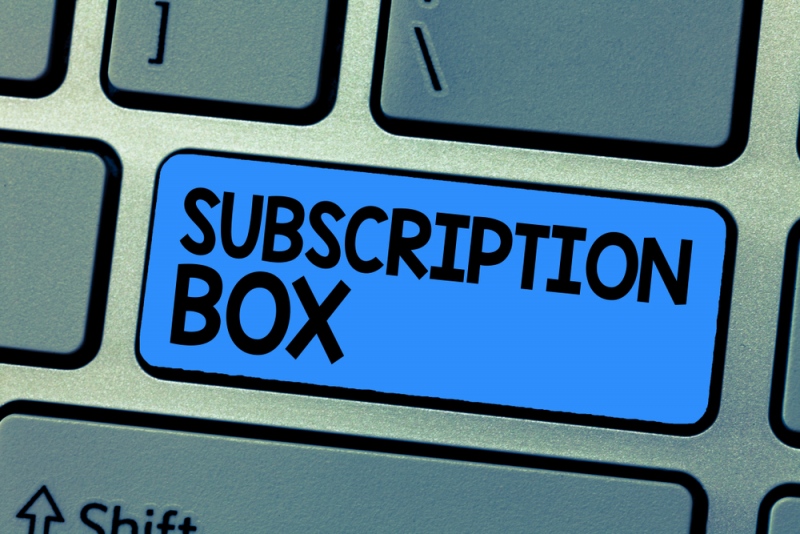 Subscription boxes are booming. While the industry had a modest start, it has seen rapid growth over the last five years. In 2016 alone, the largest subscription box retailers generated over $2.6 billion in sales, an unprecedented increase from their revenue of only $57 million in 2011. We've heard some concerns about whether subscription boxes are still a viable business model and, though the concerns are important to consider, they are largely unfounded. Today, we'd like to share some insight and statistics in defense of subscription boxes. Read on to learn more about whether the subscription model could be an opportunity for your business.
Are subscription boxes still a viable option?
The strong growth rate of subscription boxes is highly encouraging. Global conglomerates have entered the space, launching new subscription products such as Walmart's Beauty Box, Sephora's Play! box, and P&G's Gillette on Demand box. The latter of which is intended to rival the popular Dollar Shave Club, which was acquired by Unilever for a cool $1 billion.
A 2018 McKinsey survey on e-commerce consumers, surveying over 5,000 American consumers, noted that 15% of online shoppers had signed up for at least one e-commerce subscription service to receive product deliveries monthly or on a recurring basis. In comparison, 46% of consumers in the survey has subscribed to an online media-streaming service such as Netflix or Hulu.
One fascinating statistic is the striking overlap of consumers who purchased both media subscriptions and physical box subscriptions. Of the 15% of shoppers who purchased ecommerce subscription boxes, 73% of them had also bought media-streaming subscriptions.
High churn rates are to be expected in the subscription industry, so it's important to have a plan to offset the loss of customers by consistently enrolling new subscribers. Even more vital, a subscription box will only be viable long-term if it has a plan to retain customers by providing a superior customer experience.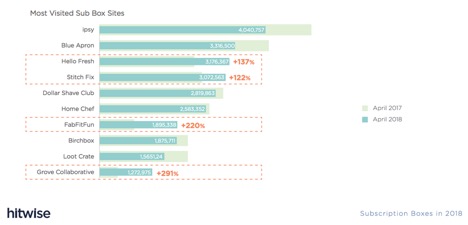 Finding a target audience for your subscription box
According to a 2018 Hitwise report of the subscription box market, the top 10 subscription box websites generated 61% of the industry's online visits in April 2018. This represents a 9% decrease from the previous April, which indicates that smaller competitors are garnering more shares of the pie.
Younger and more affluent consumers are more commonly adopting subscription services. According to the same McKinsey survey, the majority of subscription box subscribers are between 24 to 44 years old with annual incomes ranging from $50,000 to $100,000. Notably, this target audience tends to live in urban areas in the Northeastern U.S.
Women account for 60% of the subscription user base, and consumers who are already subscribed to one product or service are more likely to purchase another. About 35% of subscribers had three or more active subscriptions at the time they were surveyed. Men were more likely than women to have three or more active subscriptions.
Subscriptions catering to almost every niche are popping up to offer a convenient way for consumers to receive a customized or curated selection of products, often at a much lower cost than if the shopper purchased each item individually. When deciding to purchase a subscription box, customers indicated that they prioritized online reviews. To capitalize on this, savvy brands are lining up affiliates, partners, and social media influencers to take their marketing straight to their ideal audience.
Another efficient way to drive ideal traffic to your subscription box site is to use highly relevant search keywords to tailor content and implement pay-per-click (PPC) strategies. This requires a strong understanding of your user base and an openness to experimenting with ad types.
Sourcing products for your subscription box
According to Hitwise, subscription box consumers are three times more likely to buy from Etsy and Zulily, indicating their interest in discovering unique or lesser-known products.
When curating a selection of products, ask these three questions:
Does the box appear full?
Do the products in the box look to be good quality?
Do the products offer variety?
When sourcing products, consider niche brands that would benefit from exposure to your audience. You may offer them an opportunity to include a special label or coupon code encouraging consumers to check out their other products.
Many subscription box companies solicit free samples from brands, while others opt to purchase full-size products at wholesale. While more cost is incurred by purchasing larger products, it can be a great value proposition to differentiate your subscription box.
Some great platforms for sourcing subscription box products include:
Etsy
Crowdfunding sites such as Kickstarter and Indiegogo
Instagram
Wanelo
Amazon
eBay
Niche publications and forums
Consumer trend publications
Who are the most successful subscription box brands?
At the time of the 2018 Hitwise report, ipsy was the most visited subscription box site on the internet, selling a monthly box with personalized makeup and beauty products.
Between April 2017 to April 2018:
One common characteristic of top subscription brands is that they prioritize their mobile user experience. By optimizing for mobile use, subscriptions are able to capitalize on sales by simplifying the checkout process.
How can you efficiently fulfill orders for subscription boxes?
Whether you ship boxes out of your own facility or you decide to outsource subscription box fulfillment to a third party, it's important to consider every aspect of the fulfillment process.
Steps to strategize for subscription box fulfillment:
1. Outer and inner packaging
As the very first thing your customers will see when their order is delivered, outer and inner packaging is an important consideration. Packaging should be protective and easy enough to open upon arrival.
2. Picking and packing process
Will customers be receiving the same order on a recurring basis, or will they be receiving a new set of products in each box? Will all customers be receiving the same set of products, or will boxes be customized for each subscriber? If all customers receive the same products each month, kitting inventory will be an integral step in creating an efficient workflow.
3. Customer email communication
What, how, and when will your customers hear from you after they've placed their first order? For example, most subscription box brands will send out an email confirmation at the time the order is placed, followed by a shipping notification with tracking information once the order is shipped. After the first purchase, brands will often send an automated email notifying customers that their next order will be shipped by a specific date, avoiding the element of surprise billing.
It's also important to decide whether the shipping notification email will be sent as soon as the order is packed or delayed until a later time. Many companies choose to delay shipping notifications until one or two days later for two reasons:
It ensures the tracking information is active by the time the customer receives it, which can avoid unnecessary customer inquiries asking why the shipping status is not yet active.
It makes the transit time appear shorter from the time the shipping notification is received by the customer, which can allow brands to use lower-cost shipping methods.
4. Unboxing experience
You have your customer's full attention in this moment. How will you use it? What experience will you deliver to them? From the moment the customer receives their delivery until they've unpacked the last item in the box, this is your brand's time to shine with delightful presentation. A great unboxing experience can turn happy customers into loyal brand advocates.
Many top subscription boxes outsource inventory management and order fulfillment to a trusted 3PL. This allows the subscription brand to focus resources on product development, marketing, and sales. Plus, with great multichannel ecommerce fulfillment, integrating a new sales channel poses no concern about whether fulfillment can keep up with fluctuations in demand. By partnering with an expert fulfillment center, subscription brands can become truly scalable while decreasing costs for shipping, packaging, and kitting orders.
What subscription will you create?
As the subscription industry continues to grow, we'll see more unique and tailored options pop up every month. Are you considering starting a subscription box, or do you have a favorite brand you subscribe to? Share it in the comments!