"Business Casual": A Guide For Working Women
Business casual has many different interpretations, style can vary according to your personality or your job atmosphere. But so many employees wonder about the boundaries for a business casual dress code. Is it jeans? Khakis? How casual is too casual for business casual?
Before you head to a new job where biz casual dominates the dress code, make sure you read your office handbook (if HR issues one) to find out the parameters for your company. Some companies are strict in office dress codes, while others are more lax. However, it helps to start your dress quest with HR. If your left to your own interpretation, though, keep a few tips in mind to ensure that your office wear is work appropriate.
Gender Neutrality:
When writing fashion articles, we separate male and female styles when discussing clothing as a means to make the read easier (and organize content). However, this can be extremely frustrating for those who identify as non-binary. Clothing does not have to be dictated by gender, and gender lines aren't drawn to define style. If you're non-binary, mix up these looks. Choose styles that make you feel amazing and empowered. Everyone can mix and match fashion without feeling that they must conform to certain roles or stereotypes. The rule of thumb: you do you!
Women
Footwear
Choose close-toed shoes for the office. Yes, even for a business casual code. Save all sandals and peep-toe heels or flats for after-hours. The reason? Close-toed shoes are just too casual for the office. Plus, having toes showing isn't the most professional look for meetings! If you're in doubt, don't wear them! You also want to be comfortable in the office, so keep your foot comfort in mind when selecting shoes. Don't wear overly high heels (anything more than a few inches).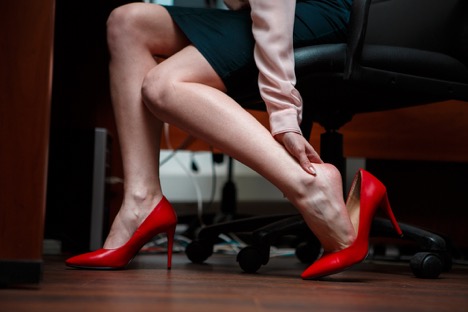 Skirts & Dresses
For business casual, a suit isn't necessary and reads a bit more business formal. Separates are a great choice for a business casual dress code. Skirt length varies per individual, so what may be too short on one person might be fine for another. Use your judgment call for this…I try to keep the length right at or slightly above the knee. Save the micro minis for later. As for colors, you can opt for prints or solids. Keep prints subtle (and not too bold), choose a neutral top to balance the look. For dresses with prints, choose a neutral shoe and tights.
Accessories
Infuse aspects of your personality with accessories. While you might not be able to go full on goth in the office, you can add accessories that nod to this part of your style. Keep the accessories tasteful though…no studded chokers!
Pants
Yes, pants are completely appropriate! In some offices a dark wash jean may also be acceptable, but try to stick with slacks, corduroys (for winter) or other dressier options. And shorts are a no-go! Save shorts for the beach or the weekend!
Tops
T-shirts aren't a good choice! Choose a blouse that isn't too low cut (or grab a cami!). No tank tops, please!
Men
It seems like men have such an easier time with business casual. There aren't many guidelines for men…which, yes, is unfair! When dressing for business casual, men should stick to slacks and a button down shirt or a polo. No crazy prints, unless you're office environment is a bit more lax. Casual loafers in neutral colors are best…leave the athletic shoes and mandals at home! A coat and tie is fine for meetings, but you don't typically need them for everyday office hours. Although GQ interprets a blazer over a button down as a better more refined biz casual. GQ suggests adding a blue blazer, a tweed sport coat, and a corduroy blazer to your shopping list (if these items aren't already in your closet!).
Before heading to a new job, make sure you understand the dress code guidelines as outlined by your company's Human Resources department. However, it the rule of dress is simply 'business casual,' then find a classic interpretation of the style. Keep your look professional, but feel free to mix in accessories that add personality or subtle prints that make you feel confident.